Rett Syndrome Fund
Welcome to the 16th Annual Rett Syndrome golf tournament. Last years tournament was another success, raising over $10,000. We would like to thank all the people who participated last year. The generosity and support from all the businesses, volunteers and golfers was overwhelming and greatly appreciated. All of our silent angels will benefit in numerous ways with the money raised.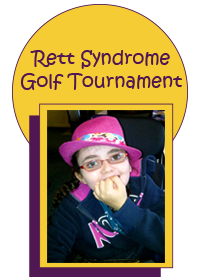 Tournament Details
EVENTS
Saturday August 24th, 2019
Shot Gun Start and Best Ball
10:00a.m. Flight of Golfers will be added when 1:30 flight is full.
1:30p.m.  Flight of Golfer Tee Off
Dinner to Follow
COST
9 Holes of Golf and Dinner
$70.00 ~Dinner only $50.00
($20.00 from every entry fee will be
donated to our charity)
Register Online or Call
(613) 342-2158
PRIZES
Hole in one prizes and other
various prizes donated by local businesses.
Now entering our sixteenth year hosting this tournament we have, with your help, raised over $263,000. We have been able to help the Eastern Ontario Rett Syndrome Chapter, we have established a fund at CHEO and we were able to help continue advanced research in Rett reversal at Sick Kids in Toronto.
This year we would like to help continue to grow the fund set up at CHEO. Dr. Humphreys  and Dr. Carter are dedicated neurologists to all our Rett Syndrome girls. The most recent accomplishment  is the opening of the 1st Rett Syndrome Clinic in Canada. This clinic is important to the complex care our daughters need. The Jessica Carr fund at CHEO has been able to help provide support for the clinical intervention required for Rett Syndrome patients and to help fund various research projects.
Jessica is now 17 1/2. She is faced with many medical complications and can't do many of things we can do, but the love, patience and happiness that comes from Jessica  captures you and your heart swells when you are with her. She is an inspiration to all who know her and is a joy to be around.
Please help make us make a difference in Jessica's life and the lives of other Rett girls. Together we can make the 2019 Rett Syndrome Golf Tournament another huge success. Thank you for your time. 
7041 County Road 29 (Stewart Blvd.) Brockville, ON K6V 5T4